I have been debating changing the name of my blog to
The House of Craig
or maybe
Craig's House
. What do you think? You know why Im thinking this, right?
I am addicted to
Craigslist
. It's ridiculous.
This week marks one year that we have been in our house. Over the last year I have collected many things from Craigslist that "need some work." Not to mention items I have thrifted. Unfortunately, I am not addicted to the "work" part, just the hunt.
Remember these nightstands I bought last year? I got them just a couple weeks after moving into our house. This is what they looked like the day I brought them home.
I wish I had a proper "after" picture to share with you. But the only thing that would be different is that the ugly handles are gone and our TV is sitting on them. Yep. They are now a TV console [instead of nightstands] because they fit perfectly between the two windows in our living room and I love their low profile, similar to the couch and chairs.
Someday Im going to paint them. Maybe white. Maybe not. I want two half circle handles one each one so it will look like one [gold] circle smack dab in the middle. Can you see it?
Also in the living room along the entry wall is this beauty. A 72" solid wood dresser with brass handles. Again, sadly this is the before and the after shot too.
This is going to look amazing one day! I go back and forth on what color I would like to paint it. A bold color or maybe just a nice charcoal gray. Opinions??
Back in February we bought a much needed new mattress and upgraded to a king. Best decision we have made! It is great having all that extra room, especially since our little mexi-can always starts his day by joining us in bed.
This is what I ended up with.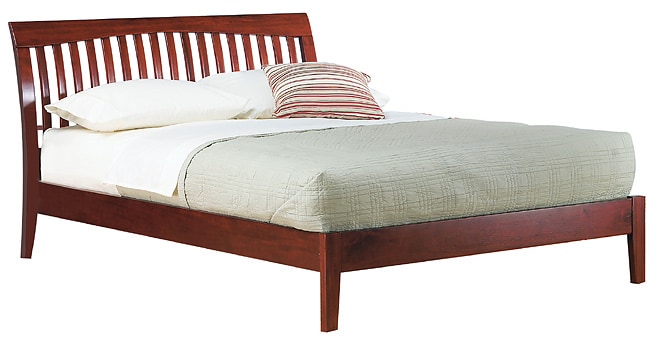 Try to imagine a tufted headboard all that red wood covered with a rich charcoal velvet.
My imagination gets the best of me, which is why I have this House of Craig.
Another before and after (in one) is my dining room table, also picked up on [my favorite website] Craigslist. It's nice and big and come with two leaves. It was $60. Not sure what to do with it, but I know I don't like the current finish.
Are you overwhelmed with my to-do list yet? Wait, there is more.
A few weeks ago I was browsing "brass" under the
'furniture by owner'
category (one of my regular searches) and saw a dining set with the coolest chairs. I contacted the seller and they agreed to sell the chairs separately. I offered what I thought was a fair price for 6 chairs and she accepted.
So without further ado, here they are!
Something about the modern lines of these chairs grabbed me. The metal is a brass color, but too polished. That will need to change. Also the hideous, worn 80's fabric is coming off.
Yes, they need reupholstered. Ugh! But....with.... what will I cover them, dear Henry dear Henry? (anyone remember that song) Oh another design dilemma. Another project I know, but I will be sending these out to the upholsterer instead of tackling myself. Must. Find. Perfect. Fabric. Im shooting for a Christmas reveal, which means they could be finished by Spring.
Just so we end on a positive note here, I'd like to remind you of
my campaign dresser
that I
finished
back in January.
I scored
this baby
on CL for just $15. It was in such horrible shape when I got it that Ernesto gave me a two week deadline to make it look nice. [or else he was throwing it in the trash]. I came through in just under three months! ha!
Yes. A finished project. I know this is something you are not used to seeing here, but times are a changin' my friends.