Ok, things finally feel like they are coming together in our "new" house. I'm sure you have heard or experienced this before, but wow, what a difference lighting can make in a space.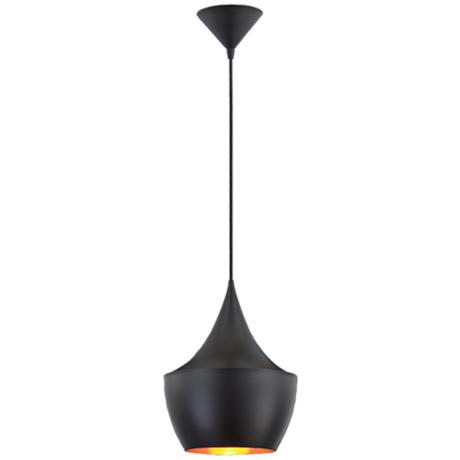 Even though I knew the measurements, I was pleasantly surprised at their substantial size when we took them out of the box. I know now how these can be sold for hundreds less than the Tom Dixon originals. They are not a heavy hammered brass. In their defense though, it's hard to tell the difference once they are hanging. They look like they cost much more. The gold interior puts off a warm glow that is romantic!
(When the kitchen cabinets get painted white

, t

he black pendants will really pop. Also to-do, a

dd new
[hopefully brass] hardware and change out othe

r

appliances to match our stainless refrigerator

.
)
We added a few of
these white bar stools
to the island and I love that we now have the perfect hang out area for watching Neto cook. Ha! They are surprisingly comfortable and the backs don't come over the counter, which I really like.
Our dining light had been bugging me ever since we installed in several months ago. I never even showed it here on VivaCindy because I was always planning to change them. (black fabric with gold interior)
Well, it never happened and now they will be listed on Craigslist. I knew it wasn't right in the space, but with the new pendant lights, it was
really
wrong.
I had been searching for a simple drum pendant that would not break the bank, but the largest I was finding was only 25" across. Friday morning I was doing a
product search on Houzz
(awesome resource, by the way) and found the
oversized equator pendant lamp from Cb2
.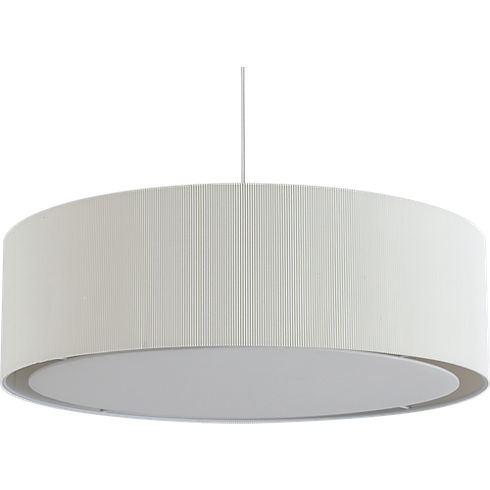 It was much less expensive than anything I had seen and the 32 in size sold me right away. I called the store to make sure they had one in stock and drove there to pick it up. Ernesto installed it that night.
Like I said at the beginning of this post, what a difference lighting makes!
We also replaced our ugly ceiling fan in the living room. I was actually against replacing the ceiling fan all together and wanted to add a cool fixture, but Ernesto likes to clear out the hot peppers when he's cooking so I searched out a fan I could live with.
This one from Overstock
is sleek & simple. Plus, with a coupon it was only $130. Done and done!
We are still in search of a little light for the powder room and the master bath light fixture/s. The bathroom construction is finished, other than the light, so I will be posting pictures of that real soon.